Model 1092A/B/C GPS Satellite-Controlled Clock (500 ns)
Model 1092A/B/C GPS Satellite-Controlled Clock (500 ns)
Value oriented tabletop GPS precision timing source based on Model 1093, designed for a broad range of applications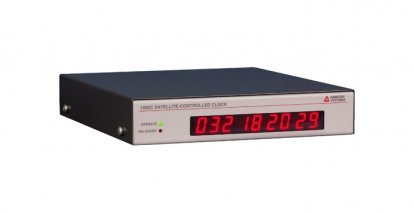 Need value and performance in a desktop model? This precision time clock model brings economy and flexibility to environments that don't need or use a rack mount system.
With two terminal strip outputs providing unmodulated IRIG-B and 1 PPS signals, the 1092A/B/C is capable of driving multiple loads in parallel.
Like other Arbiter clock models, various options are available to extend the functionality of the base model. Features supported include a second RS-232 port, an Out-of-Lock Relay Form C SPDT, an IRIG-B Modulated Output, and the reconfiguring of 1 PPS and IRIG-B Output to Programmable Pulse. The 1PPS Output may also be reconfigured to be an Event Input.
Adding value, each Model 1092A/B/C includes a Limited Lifetime Warranty to the original owner/purchaser, a wall mount power supply, a GPS Antenna with a 15 meter antenna cable, and an operations manual. Avoid the extra charges other company's tack onto their clocks!
Model 1092A/B/C is available with three front panel configurations. See photos and Key Features tab for more information.
Accuracy < ± 500 ns
Desktop version (optional rack mount kit is available)
Unmodulated IRIG-B and 1 PPS included, modulated IRIG-B optional
Multiple interface versions
Versions A/B/C offer various interface options (see photos):
1092A supports two LEDs for monitoring operating status.
1092B adds to the LEDs an LCD display and keypad, providing easy access to setup and system status information.
1092C adds to the LEDs a large LED time display.
IEEE C37.118.1-2005 compliant for Synchrophasor use.
Receiver Characteristics
Timing Accuracy
| | |
| --- | --- |
| Accuracy Note | Specifications apply at the 1 PPS output, in the presence of Selective Availability (SA), as of date of publication. |
| Accuracy UTC/USNO | ± 500 ns peak |
Satellite Tracking
Twelve (12) channel, C/A code (1575.42 MHz). Receiver simultaneously tracks up to twelve satellites. Results from all tracked satellites are averaged in Position-Hold Mode or, with Position-Hold Mode off, using least-squares estimation.
Acquisition
150 seconds typical, cold start
15 minutes, 90 % confidence, cold start
40 seconds, with almanac less than 1 month old
15 seconds, with ephemeris less than 4 hours old
The GPS Data Backup Battery is included in all Model 1092s. This feature improves acquisition time by supplying constant power to the real-time clock and RAM in the GPS receiver module.
I/O Configuration
Output Connectors
Two standard: one IRIG-B Unmodulated and one 1 PPS; Type: bus driver, 5 V CMOS; 10 ohms source impedance; ± 75 mA drive capability; pluggable terminal strip.
Open-drain FET drivers (400 V, 220 mA, 1 W power dissipation) can also be fitted; contact factory.
Event Inputs
One event timer channel with 1 µs resolution is standard. This function may be driven by the start bit of a received character on the serial port, or (by internal connection) an external 5 V CMOS/TTL signal at one of the terminal strip connectors.
Programmable Pulse Output
One programmable output pulse (by a jumper connection) that may be output on a terminal strip connector or the AUX OUT pin on either RS-232 Port.
Four modes:
Every 1 second to 60,000 seconds, starts top of the minute
Hourly at a specified offset
Daily at a specified time of day
One shot at a specified time of year
Pulse duration is programmable from 0.01 seconds to 600 seconds, except in one-shot mode, where the output is Low prior to the specified time and High thereafter.
Interface
Operator
Display

Status LEDs (Models 1092A/B/C)
2 character x 20 character supertwist LCD (Model 1092B)
14 mm (0.56 in) LED; 9 digits (Model 1092C)

Functions

Time: UTC or local
Position: latitude, longitude, altitude
Receiver and clock status
1 PPS (input) deviation
Event time

Status LEDs

Operate (green)
Unlocked (red)

Keyboard

Eight keys; select display functions or setup menus (Model 1092B)

Setup

Local time offset
Output code select: Local/UTC
Daylight Saving Time (Set Summer Time): Off/On/Auto USA/Auto EUR/Auto CUS
Backlight control: On/Off/Auto
Event input: Event/1 PPS
Programmable Pulse setup
Antenna delay
Out of lock time: 1 minute to 99 minutes, Off, or Zero Delay
Auto-Survey: On/Off, Survey duration
Position Hold: On/Off, Position Auto/Manual
Option Configuration and Setup
Serial port: RS-232
System
RS-232

1200 baud to 19,200 baud; 7 or 8 data bits; 1 or 2 stop bits; even/odd/no parity

Second RS-232 port available (1092opt19)
Connector: Male 9-pin D-sub (TXD, RXD)

RS-422/485

Optional driver can also be fitted (1092opt94)

Broadcast modes

Standard ASCII (IRIG-J)
Extended ASCII
ASCII with Time Quality
ASCII with Time Quality and Year
Vorne large-display time
Status/Alarm
Event data

Connector

Male 9-pin D-sub (TXD, RXD, AUX IN, AUX OUT)
AUX OUT can provide programmable pulse function at RS-232 levels
Power Requirements
Standard
Wall mount plug-in transformer: 9 Vdc/500 mA, 120 Vrms, 60 Hz UL/CSA; Contact factory for other voltages (input accepts 9 Vdc to 15 Vdc)
General
Physical
Size

43 mm H x 218 mm W x 257 mm deep, 1 RU with Rack Mount kit, AS0044500.
635 mm x 381 mm x 229 mm (25 in x 15 in x 9 in), shipping

Weight

1.4 kg (3 lbs), net
5.5 kg (12 lbs), shipping

Antenna

Cable Connection: F-type
Mounting: 0.75 in pipe (1 in - 14 marine) thread
Size: 80 mm hex (across flats) x 84 mm tall (3.2 in x 3.3 in), including connector
Weight: 170 g (6 oz)

Antenna Cable

Type: RG-6, 15 m (50 ft) provided
Weight: 0.69 kg (1.52 lbs) per 15 m
Environmental
Temperature

Operating: 0 °C to + 50 °C (- 20 °C to + 70 °C typical)
Nonoperating: - 40 °C to + 75 °C

Humidity

Noncondensing

EMC

Radiated susceptibility: passes walkie-talkie test.
Certificates and Approvals
CE mark/label and certificate
Except as noted otherwise, only one I/O Option may be installed. Available options are listed below and described in the Options and AccessoriesOptions and Accessories section.
1 May be ordered independently from other I/O Options

Included
AS0083100
Adhesive Backed Feet (4)
AS0087800
Arbiter GPS Active Timing Antenna
CA0021315 1
15 m (50 ft) RG-6 Antenna Cable, RoHS
P01W-P10W
Wall Mount Power Supply with Country Specific Plugs
PD0052700
Quick Setup Guide (1093)
Available
AP0003400 2
BNC (Male) Breakout to 100 mm Wires
AP0008900 2
BNC (Female) Breakout to 100 mm Wires
AP0009000 3
Power Supply: 100-240 Vac, 50-60 Hz, IEC-320; 9 Vdc, 1 A
AP0013400
GPS Antenna Cable Splitter, F-Type, 950-2150 MHz, One Port Pass DC
AP0014900 2
BNC (Female) Breakout to Screw Terminal
AP0015000 2
BNC (Male) Breakout to Screw Terminal
AS0035400
Operation Manual (1092/1093)
AS0044500
Rack Mount Kit (1092)
AS0044600
Antenna Mounting Kit
AS0044700 4
21 dB In-Line Pre-amplifier
AS0048900
Antenna Grounding Block Kit, RoHS
AS0094500
GNSS Surge Protector
CA0019806
RS-232 Null Modem Cable, DB9F-DB9F, 2 m (6 ft) length
CA0021302 1
2 m (6 ft) RG-6 Antenna Cable, RoHS
CA0021306 1
6 m (20 ft) RG-6 Antenna Cable, RoHS
CA0021330 1
30 m (100 ft) RG-6 Antenna Cable, RoHS
CA0021345 1
45 m (150 ft) RG-6 Antenna Cable, RoHS
CA0021360 1
60 m (200 ft) RG-6 Antenna Cable, RoHS
CA0021375 1
75 m (250 ft) RG-6 Antenna Cable, RoHS
CN0027800
Type F, Male, RG-11 Antenna Cable Crimp-on Connector
CN0050700
Type F, Male, RG-6 Antenna Cable Compression Connector, RoHS
CN0050800 5
Type F, Male, RG-6 Plenum Rated Antenna Cable Compression Connector, RoHS
TF0006000
Type F, RG-11 Antenna Cable Crimp Tool
TF0013200
Antenna Cable Stripping Tool, RG-6
TF0013300
Antenna Cable Stripping Tool, RG-11
TF0024000
Type F, RG-6 Antenna Cable Compression Tool
WC0004900 1
300 m (1000 ft) Roll RG-11 Cable
WC0005000 1
300 m (1000 ft) Roll RG-6 Cable
WC0005200 6
300 m (1000 ft) Roll RG-6 Plenum Rated Cable
1 Stocked length. Custom lengths available from 0.3 m (1 ft) to 300 m (1000 ft). Contact factory.
2 Converts pair of wires to BNC.
3 Used in conjunction with P01 - P10
4 Used for cable lengths greater than: RG-6 75 m (250 ft) ; RG-11 120 m (400 ft)
5 Indoor use only. Not weather resistant. Not UV radiation protected.
6 Stocked length. Custom lengths available from 0.3 m (1 ft) to 300 m (1000 ft). Contact factory. Indoor use only. Not weather resistant. Not UV radiation protected.

Click to Download Latest Version of Software
Arbiter Time Service_01Jan2010_1500
PC Clock Synchronization Service for WIN NT/2000/XP/Vista/7. Not compatible with WIN 8.
Tera Term_01Jan2010_23
This is a very good HyperTerminal replacement. Able to capture data from Models 930A and 931A. Also able to program the GPS Satellite Controlled Clocks via serial commands.
---
Software Version and Related Information
Arbiter Time Service Tool (Arbiter Time Service)
PC Clock Synchronization Service for WIN NT/2000/XP/Vista/7. Not compatible with WIN 8. The Arbiter Time Service installs on Microsoft® Windows NT/2000/XP and runs as a service to keep the PC clock synchronized to an Arbiter GPS clock. The Arbiter Time Service connects with an RS-232 cable and interrogates the clock for the time signal
| Version | Rev Level | Version Notes |
| --- | --- | --- |
| 01Jan2010 | 1.5.0.0 | |
Terminal Emulation Program (Tera Term)
Free software terminal emulator (communications program) for Microsoft Windows.
Tera Term (Pro) is a free software terminal emulator (communication program) for MS-Windows.
Supports VT100 emulation, telnet connection, serial port connection, etc.
Compatible with Windows 98, Windows NT, Windows 2000, Windows XP, Vista, Windows 7
Firmware Information (EPROM based firmware is not available for download)
1092/1093_Firmware_21Mar2017
Requires an EPROM update from Arbiter.
---
Firmware Version and Related Information
EPROM update (1092/1093_Firmware)
Version
Rev Level
Version Notes
21Mar2017

Updates are not security related.

Fixed serial output menu to correctly integrate settings for the Option 28 Power System Time, Frequency, and Phase Monitor.

03Nov2016

Updates are not security related.

Fix leap second operation to properly warn and implement the leap second.
Changed the IRIG-B Daylight Saving Time (DST) pending bit to change state at xx:59:01 (was starting at xx:59:00). Now it is consistent with Leap Second Pending bit operation.
Fixed the IRIG-B Daylight Saving Time (DST) pending bit to properly change state when exiting DST.

30Nov2015

Baseline code alignment with other legacy clock models. Does not affect clock operation at the outputs (BZ734).

02Nov2015

DST stop error. Not exiting DST mode properly when "day of week" value matches the first day of the following month (BZ733). Example: DST will not properly stop if DST stop was set to Last Sunday of October and November 1 is also on a Sunday.
Add Option 36 as a Slot B selection.
B8 broadcast output was missing a colon.

13Jun2013

Option 34 and Option 35 updates:

PTP enable/disable now shows on front panel display.
Enabled leap second flags, leap second application time (seconds of year), and UTC-GPS seconds offset.
Fixed formatting related to the version strings.

11Aug2011

Update to the time quality functionality so it no longer displays locked, maximum accuracy immediately after reacquiring satellites.

26May2011

Fix IP address display to use periods (.) instead of colons (:).

12May2011

Add Option 34/35 support.
Add "IP" serial command to return Option 34/35 IP addresses.
Add display of Option 34/35 MAC addresses
Add bit to indicate if unit has ever been locked to GPS.
Update NTP status screens.

18Oct2010

Update serial "RD" output to be consistent across all clocks (reference BZ 489).
Fix Option 28 XI configuration command (reference BZ 490).
Leap second pending always 0 for Motorola 8-channel receiver (reference BZ 632).
Fix 1093 Optional RS232 port periodically responded with "garbage" data (reference BZ 635).

02Nov2009

Fix power-up set defaults: Incorrectly had to wait until "SETUP" key released.
Possible survey fix: "Zero" positions will now be ignored when doing survey calculation.
Complete "Position Hold ID" (user or survey position flag)
Block user from changing user position or position hold setting while survey active.
Broadcast format time moved from the 20ms mark to 100ms mark. It was moved to give Option-28 enough time to format broadcast messages. (Opt-28 broadcast data was being copied while it was still being update causing some "0x00" characters to randomly appear in the message)
DEBUG CODE: Output lat-long dif when debug_mode broadcast set to mode 2.