Engineering Service
Supporting Unique Challenges through Technical Support and Engineering Services
Arbiter's engineering staff is focused on solutions. Customers with unique challenges are welcome at Arbiter – many of the advanced features found across the product lines resulted from collaboration between customers and Arbiter engineering.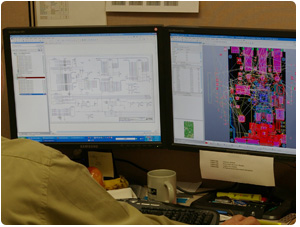 As a result, Arbiter products are the most versatile and cost effective in the industry. Most rack mount precision timing clock models, for example, support plug-in option boards performing specific functions, such as Network Timing Protocol (NTP), fiber optic connectivity and COMTRADE sample rate generation. Output and input needs are supported via multiple connection styles which can be configured to send or accept myriad signal types.
Arbiter's most versatile clock, Model 1088B, can mathematically support over 260,000 possible configurations – plus a long list of optional plug-in boards!

Customer challenges, however, come in all shapes and sizes. Whether seeking information, product selection advise or needing a sophisticated system analysis, Arbiter technicians are here to help. Technical staff will propose solutions that meet your technical as well as budgetary requirements. Best of all, collaborating with Arbiter's technical staff is a no-cost service, demonstrating our commitment to customer satisfaction..