Universal Test Plug Current Shunt
Universal Test Plug Current Shunt
Features a Universal Test Plug and a loop of Santoprene insulated lead wire. Allows a clamp-on CTs to be used with compatible series test jacks.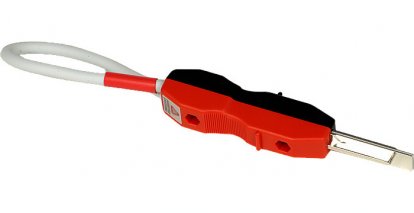 Test Leads Data Sheet
Download (255 kB) »
Arbiter strives to continuously improve all aspects of our product line, and the Universal Test Plug is no exception. The third-generation Universal Test Plug features the latest refinements to our industry-leading test plug design.
Refinements:
Shortened center-rib length — compatible with a wider variety of test jacks.
Thinner blade — easier insertion while maintaining strength and rigidity.
Improved plating — more durable and longer-lasting finish.
The Universal Test Plug Shunt is our expertly engineered solution to customer requests for clamp-on CT access to series test jacks. Made with nickel-plated machined brass blades rather than stamped metal blades used by competitors and our super flexible #10 AWG fine strand, rope-lay conductors with Santoprene insulation. This shunt is compatible with ABB/Westinghouse™, GE™ FT, Superior™, Meter Devices™, and States™ series test jacks.
Available as individual phase labeled pairs or as a three-phase, three pair set.
Intended for everyday use by technicians in the most demanding environments, the Universal Test Plug Shunt is designed for long life and is suitable for use with all Arbiter Systems Inc. current measuring products.
Universal Test plug and a 27 cm (10.5 in) loop of #10 AWG Santoprene lead wire
AØ-Red, BØ-Yellow, CØ-Blue plug and lead wire phase markings
Order individually or as a set for three-phase testing
Order Numbers:
AS0079001 = Universal Test Plug Current Shunt, AØ-Red
AS0079002 = Universal Test Plug Current Shunt, BØ-Yellow
AS0079003 = Universal Test Plug Current Shunt, CØ-Blue
AS0079030 = Universal Test Plug Current Shunt, Three phase set: AØ-Red, BØ-Yellow, CØ- Blue
Wire Type
#10 AWG, 1666 x #42 stranding, 1.15 mm (0.045 in) Santoprene insulation; 6.1 mm (0.240 in) OD.
Plug 1
Universal Test Plug
Length
Loop is 27 cm (10.5 in) long.
Color
Wire insulation color is gray with colored phase markers on each pair (AØ-red, BØ-yellow, CØ-blue) and colored markers on each loop.
There are no additional Options available for this product.
Available
841A
Series Test Jack Isolator Paddle
842A
Three - Series Test Jack Isolator Paddles with 60 cm Nylon Cord
842B
Four - Series Test Jack Isolator Paddles with 60 cm Nylon Cord