Model 1073A Distribution Amplifier
Model 1073A Distribution Amplifier
Time Code Distribution Solution - designed to buffer and distribute signals generated by other Arbiter GPS Satellite-Controlled Clocks.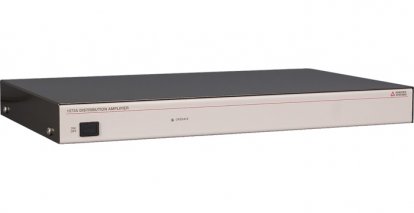 Looking for a time code distribution solution? Need even more outputs? Is your installation spread across a wider geographic area? Is a second clock not practical? The Model 1073A was built to address these and other challenges, while providing the flexibility to configure the device to fit specific needs.
Designed to buffer and distribute time codes and signals generated by sources such as Models 1088B, 1084B/C, 1093B/C and 1092A/B/C. Model 1073A includes three separate channels, each with four high drive outputs. Via copper or the optional fiber optic board, you can link additional facilities easily, and still get the high accuracy without adding more clocks.
Output capabilities include AC and DC coupled modes. In AC-coupled mode, the unit can receive and distribute timebase and reference frequency signals up to 10 MHz. In DC-coupled mode, Model 1073A can distribute 5 V CMOS/TTL logic-level signals such 1 PPS and unmodulated IRIG-B timecode.
Note: Because of the limiting amplifiers and frequency limit when AC-coupled, the Model 1073A is not suitable for distribution of modulated IRIG-B signals.
Ability to extend time signals generated by models 1088B, 1084B/C, 1093B/C and 1092A/B/C
Copper or fiber optic cabling support
Time code and frequency signals support (not suitable for distribution of modulated IRIG-B signals)
I/O Configuration
Channels Three, each with four outputs
Mode:
Independent Each channel independently driven
Common A/B B/C outputs driven by A or B input
Selection Internal push-on jumpers
Output Connectors
50-ohm BNC, four per channel
Fiber Optic Type ST, for 62.5/125 µm multimode fiber, optional (1073opt01)
Output Signals
Driver Each output, 74HC125 quad buffer
Coupling AC (0.1 µf capacitor) or dc (Selected by internal push-on jumpers)
Level 5 Vpp, open-circuit; 2.5 Vpp (+ 12 dBm), into 50 ohms
Impedance 50 ohms
Input Connectors
Isolated 50-ohm BNC, 1 per channel
Input Signals
DC coupled Opto-isolator (HCPL2601) in series with 562-ohm resistor
Level 5 mA at 5 volts, nominal
Polarity Center conductor positive
Frequency DC to 5 MHz
AC coupled RF transformer; 50 ohms
Level 0 to + 15 dBm (0.6 Vpp to 3.6 Vpp)
Frequency 100 kHz - 10 MHz
Selection Internal push-on jumpers
Isolation 2000 Vrms, minimum, to common
Interface
Operator
| | |
| --- | --- |
| Status LEDs | Power On (green) |
Power Requirements
Standard
Voltage

(Option 07) 85 Vac to 264 Vac, 47 Hz to 440 Hz, 20 VA maximum or 110 Vdc to 370 Vdc, 15 W maximum

Inlet

(Option 07) IEC-320 with fuse and mating cordset. Specify option P01 - P10

Available cordset plug style and specifications are described in the Options and Accessories section.
General
Physical
Size

1 RU rack mount or tabletop; 260 mm deep FMS. Rack mounts included.
635 mm x 381 mm x 229 mm (25 in x 15 in x 9 in), shipping

Weight

2 kg (4.5 lbs), net
3.2 kg (7 lbs), shipping
Environmental
Temperature

Operating: 0 °C to + 50 °C (- 20 °C to + 70 °C typical)
Nonoperating: - 40 °C to + 75 °C

Humidity

Noncondensing

EMC

Radiated susceptibility: passes walkie-talkie test

Conducted emissions: power supply complies with FCC 20780, Class A and VDE 0871/6.78 Class A

Surge withstand capability (SWC), power inlet: designed to meet ANSI/IEEE C37.90-1 and IEC 801-4
Certificates and Approvals
CE mark/label and certificate
I/O
1073opt01
Fiber-Optic Input
General
1073opt04
On/Off Switch (1084B/1093B)
Power
1073opt07
IEC-320 Power Inlet 85 Vac to 264 Vac RMS, 110 Vdc to 370 Vdc
1073opt08
10 Vdc to 60 Vdc Terminal Power Strip and Surge Withstand
1073opt10
85 Vac to 250 Vac RMS, 110 Vdc to 350 Vdc Terminal Power Strip and Surge Withstand
Included
AS0028200
19 Inch Rack Mount Kit
P01 - P10 1
Country specific power cord with straight female end
PD0053200
Quick Setup Guide (1073)
Available
AP0003400 2
BNC (Male) Breakout to 100 mm Wires
AP0008900 2
BNC (Female) Breakout to 100 mm Wires
AP0014900 2
BNC (Female) Breakout to Screw Terminal
AP0015000 2
BNC (Male) Breakout to Screw Terminal
AS0045800
Operation Manual (1073A)
AS0056600
24 Inch Rack Mount Kit
CA0026000 3
Power Cord IEC-320 to Bare Leads
1 Only applies if Power Option 07 is ordered
2 Converts pair of wires to BNC.
3 Used with Option 07.

No software downloads available for this product
---
No additional software information is available for this product
No firmware Downloads are available for this product
---
No additional firmware information is available for this product