Synchronized Power Measurements

For the first time - Precision Timing technology combined with Power Metering and Measurement: Introducing the Power Sentinel™ family from Arbiter Systems®, Inc. As a Phasor Measurement Unit (PMU) compatible with IEEE C37.118, the Power Sentinel™ products combine six industry leading technologies into either a rack-mountable (above) or portable unit (below).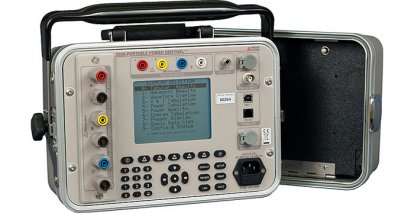 Built for progressive electric industry professionals, Models 1133A and 933A support Synchrophasors, Power Quality Monitoring, System Control and Monitoring, GPS Synchronization, Revenue Metering, Data and Event Logging and related technologies in a single package.
---
Products
A leader in synchrophasor measurement and analysis, Model 1133A Power Sentinel™ merges precision time synchronization and power measurement features into a single PMU compatible device.

View Product »
---
Arbiter's accurate and affordable portable power quality meter, with PMU compatible functions measuring synchrophasors, time, harmonics, flicker, K-factor, interruptions, phase and frequency.

View Product »
---
The perfect source for testing instrument current transformers and measuring ratio and phase angle errors. Works with the Model 931A Power System Analyzer and the Model 936A Reference Current Transformer.

View Product »
---
Provides laboratory grade accuracy in a small, portable, ruggedized case, making it ideal for calibrating other current transformers in the field.

View Product »