Power Measurement and Calibration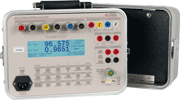 Arbiter's line of Power System Analyzers, Panel Meter Calibrators, and Transformer Maintenance products meet and exceed all industry standards. Featuring Arbiter Systems® proprietary PowerDSA™ Digital Signal Analysis algorithms, power engineers are able to make more measurements, more accurately and at lower cost than ever before.
Portable, rugged and battery operated, Arbiter Systems® Power System Analyzers are revolutionizing measurements of instrumentation, relaying and metering circuits. Built with safety-first in mind, all products include multiple grounding technologies to protect against shock. Software and firmware is available to manage and analyze the data in real-time or post-analysis via computer.
Two Panel Meter Calibrators bring portable calibration functions to the field including voltage, current, frequency, power factor, phase, VARS and synchroscope. Model 1040C is a complete, full functioning package, while Model 1040CU is an economic alternative if some features, such as a hand-help control unit, are not required.
Because TCG (total combustible gasses) measurements have been shown to be good indicators of transformer health, Arbiter supports Model 921A for testing and maintenance of transformers. Like all Arbiter products Model 921A comes with all necessary accessories in one convenient, portable package.
---
Products
*Repair and calibration services available through 2022 depending upon parts availability.
*Accessories available until supplies run out.

View Product »
---
Measure total combustible gases (TCG) in oil-filled transformer nitrogen gas blankets with this rugged, portable instrument.

View Product »
---
Handheld, affordable Power System Multimeter measures power and energy, flicker, harmonics, phase angle and includes a waveform display

View Product »
---
Featuring high accuracy and a complete suite of power and quantity measurement functions, Model 929A is the clear choice as a complete diagnostic tool in industrial power environments.

View Product »
---
An economic alternative to Model 931A, this solution features the same ac accuracy as the 931A, serial communication capability for use in power quality trend monitoring, and complete diagnostic capabilities.

View Product »
---
Full featured Model 931A goes beyond basic and power quantity measurements, supporting two way communications, transducer calibration, timer features and more.

View Product »