Options - Option 23 COMTRADE Sample Rate Generator
Summary Information
Provides a GPS-synchronized sampling signal at rates of 200 PPS to 192 kPPS, as defined in IEEE Standard C37.111-1991. Available on the Models 1084, 1088.
Full Description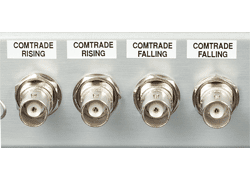 COMTRADE Sample Rate Generator, as installed on rear of chassis.
The Arbiter Systems®, Inc. GPS Satellite-Controlled Clock, equipped with the COMTRADE Sample Rate Generator, generates any one of the 48 standard sampling rates for waveform digitization in 50 Hz or 60 Hz systems as defined in IEEE Standard C37.111-1991, Data Exchange (COMTRADE) for Power Systems. Standard COMTRADE Sampling Rates are listed in Tables 1 and 2.
The selected sample rate is available as a 5 V CMOS-level square wave in both normal (rising edge of clock synchronous with 1 PPS) and complemented (falling edge of clock synchronous with 1 PPS) polarities. The sampling pulse is synchronized to within ± 50 ns of 1 PPS, and has sample-to-sample jitter less than 1 ns.
Principles of Operation
The assembly generates sampling signals which are precisely locked to 1 PPS-GPS by phase locking a precision voltage-controlled crystal oscillator (VCXO) to the internal 1 kPPS signal present in the clock. This VCXO output signal is then divided down to obtain the desired sampling rate. Synchronization logic is also provided, to ensure that the output divider is synchronized to 1 PPS-GPS. By using a precision VCXO, pulse-to-pulse sampling jitter is held to an absolute minimum, and is specified not to exceed 1 ns rms. The output signals have a 50 % duty cycle (square wave).
Other Features
This assembly includes four configurable BNC outputs, which are in addition to those available for the standard model clock. Either normal or complemented-polarity COMTRADE sampling frequency signals may be made available at each of these additional outputs. Furthermore, any output not configured for a COMTRADE sampling rate output can be used as a general-purpose configurable output, and can deliver any of the standard signals that are available in the clock.
Comtrade Sample Rate Generator Specifications
Table 1. Sample Rates, f LCM = 384 x f base
Samples/Cycle
fs for 60 Hz
fs for 50 Hz
384
23040
19200
192
11520
9600
128
7680
6400
96
5760
4800
64
3840
3200
48
2880
2400
32
1920
1600
24
1440
1200
16
960
800
12
720
600
8
480
400
6
360
300
4
240
200

Table 2. Sample Rates, f LCM = 3200 x f base
Samples/Cycle
fs for 60 Hz
fs for 50 Hz
3200
192000
160000
1600
96000
80000
800
48000
40000
640
38400
32000
400
24000
20000
320
19200
16000
200
12000
10000
160
9600
8000
128
7680
6400
100
6000
5000
80
4800
4000
64
3840
3200
50
3000
2500
40
2400
2000
32
1920
1600
20
1200
1000
16
960
800
10
600
500
8
480
400
4
240
200
Specifications
Performance:
Accuracy: ± 50 ns from 1 PPS, maximum, (- 10 ns, typical)
Jitter: 1 ns rms, maximum pulse to pulse (guaranteed by design, not production tested)
Outputs:
Connectors Four, BNC 50-ohm, configurable
Signals

Normal Polarity COMTRADE Sample Rate, 50 % Duty Cycle
Complemented COMTRADE Sample Rate, 50 % Duty Cycle
All Other Signals Available in 1088B or 1084A/B/C Clocks
Drive Capability:
Digital 5 V CMOS Buffer, 50 Ohms Impedance
Analog Opamp Buffer, 600 Ohms Impedance
BACK