Accessories - AS0019100 Calibration Gas Regulator
Summary Information
Used with the Model 921A Combustible Gas Meter.
Full Description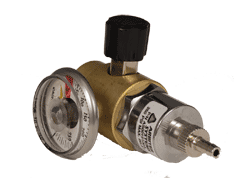 The Calibration Gas Regulator regulates the flow of air and one of the two calibration gases in field calibrating the Model 921A and measuring Total Combustible Gas (TCG).
WARNING: Do not use 921A to measure TCG when any gas cylinder pressure indicates in the RED ZONE.
BACK