Accessories - 811AT-8 3-Phase Univ. Test Plug Current Lead Set
Summary Information
Compatible with ABB/Westinghouse™, Superior™, Meter Devices™, and States™ series test jacks.
Full Description
the 811 Series Universal Test Plug Leads set the standard for quality and value. Made with nickel plated machined brass blades rather than stamped metal blades used by competitors, gold-plated, 0.25 in spade lugs or optional gold-plated C-Hooks, and our super flexible #10 AWG fine strand, rope-lay conductors, available in Santoprene or Silicone insulation.
Available as individual phase labeled pairs or as a three-phase, three pair set, each pair are enclosed in gray PET armor and come with a hook and loop lashing strap.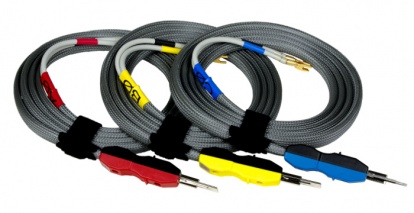 Click here for specifications and part number configuration.
BACK