AS0028100 600 Ohm IRIG-B Isolation Transformer
AS0028100 600 Ohm IRIG-B Isolation Transformer
The AS0028100 isolates the source of the modulated IRIG-B from the end device.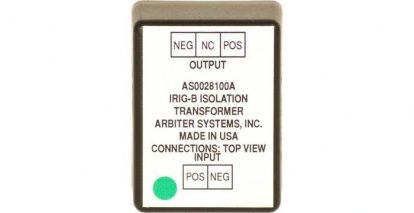 The AS0028100 is not really part of the Copper IRIG-B Distribution System but it is derived from it. It works with modulated IRIG-B and isolates the source from the end device.
Can be used with any Arbiter GPS satellite controlled clock
Can be used with DIN Rail mounting brackets
Ordering checklist:
No additional Specifications available for this product
Contact Technical Support for more information.
Available
AP0003400
BNC (Male) Breakout to 100 mm Wires
AP0008900
BNC (Female) Breakout to 100 mm Wires